Corona Virus – Relevant information (as of January 27, 2022) for all scientists at the Max Planck Institute for Mathematics
Posted in
During the pandemic, regulations are imposed by different sources. The German government imposes the overall rules, but the governments of the individual Länder (federal states in Germany) as well as some cities have the freedom to impose regulations with regard to the particular situation of the area. Here we try to summarize the information relevant for our guests as best as possible and to keep it up to date. We assume no liability for this information and refer to the government websites for the official regulations:
NRW website (only in German), Federal Foreign Office's website, city of Bonn's website.
Regulations in Bonn / NRW / Germany
Update January 24, 2022: Prioritisation of PCR testing for at-risk groups and workers who care for and treat them. Modified test rules will be developed and the test strategy and test regulation will be adapted.
The following facilities, offers, and activities may now only be used, attended, or participated in as participants by immunized persons (=2G): Retail stores and markets (with exceptions, like supermarkets, baby stores, drugstores, pharmacies, medical supply stores, gas stations, opticians, etc.); cultural institutions (e.g. museums, theater,), gyms, swimming pools, events
Starting on January 13, 2022: where a negative test result is required for access (3G or 2G+), a supervised self-test can be performed on site instead of submitting a test certificate from an official test center. This self-test is then only valid for this offer/facility. Whether and in what form on-site testing is offered is decided by the respective operator of the facility.
Starting on January 13, 2022: 2G+ rule: gastronomy, indoor sports, swimming pools, wellness offers.
There is a mask obligation (medical, FFP2 or similar) in effect in the city center from 10 a.m. to 8 p.m. Where exactly, please see here.
Mask requirement also remains in effect in certain areas, e.g. public transport; retail; public indoor areas, and more.
You can see the current numbers regarding Covid-19 in Bonn here.
In case of a positive test result
If you get a positive self-test result, you should get tested officially with a PCR test as soon as possible and only leave the house for the test in compliance with general infection control regulations. If the PCR test is positive as well you are obligated to isolate immediately. You will get an information sheet from the city about the duties and regulations for positive tested persons and their contacts.
If you had contact with a positive tested person, you should get tested as well.
Here you can find some more information about testing, quarantine and isolation and what to do when you have tested positive.
Covid Vaccination
Update Jan. 19, 2022: With one dose of the Johnson&Johnson vaccination a person does no longer count as "fully vaccinated". Please make sure to inform yourself about the possibilities of further vaccination.
Here you can find some information about where to get vaccinated in Bonn as well as a list of doctor's offices that offer the vaccination.
Vaccination side effects can be reported here.
Travel
For countries where virus mutations are widespread (so-called virus variant areas), there is a transport ban. Transport companies, e.g. airlines or railroad companies, are not allowed to transport persons from these countries to Germany. Transportation is only possible in narrowly defined exceptional cases, in particular for German citizens and persons with residence and existing right of residence in Germany, as well as their spouses, their cohabitants from the same household and their minor children; for persons who are only transferring in Germany, and in a few other special cases. Further information.
All persons traveling to Germany from abroad will be required to present an official negative test result, proof of recovery or proof of complete vaccination protection (regardless of whether you arrive by plane, train or car and from where you arrive).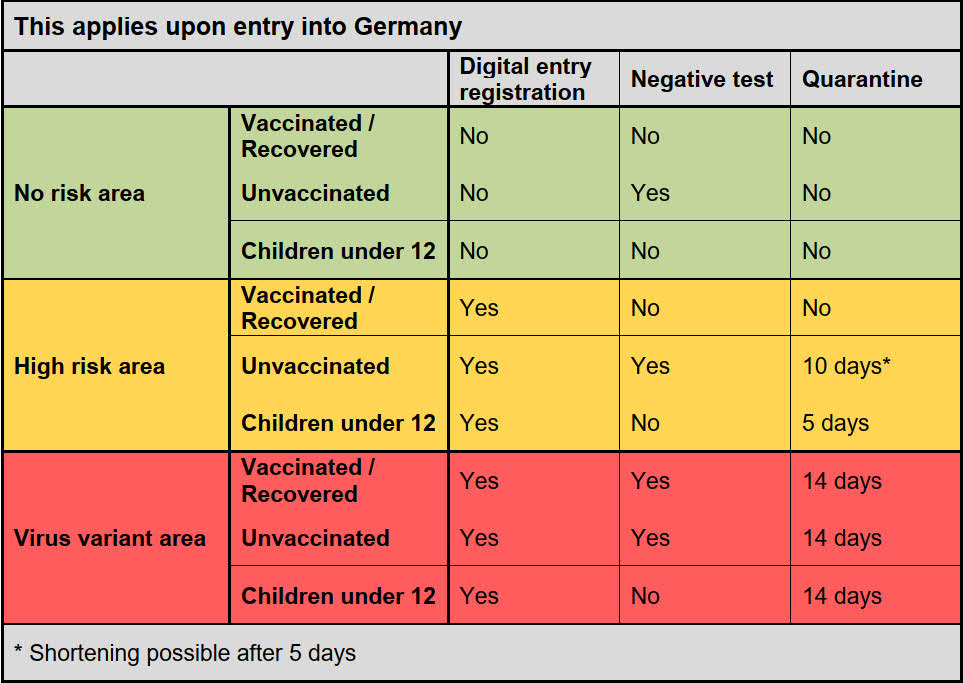 For the digital entry registration when entering from a high risk - or virus variant area, please register at www.einreiseanmeldung.de before arriving in Germany and carry proof of registration with you upon entry.
To see in which category (no risk, high risk or virus variant area) which countries are, please see the Robert Koch Institute website.
For vaccinated people: you need a proof of a Covid-19 vaccination in German, English, French, Italian or Spanish in digital or paper form (for example Digital COVID certificate of the EU or yellow WHO vaccination certificate). The vaccination must have been carried out with a vaccine listed on the website of the Paul Ehrlich Institute. The last necessary vaccination dose must be received at least 14 days before entering Germany. For recovered persons one vaccination dose is sufficient and this vaccination does not have to be 14 days ago either.
For recovered people: you need a positive PCR test result obtained at least 28 days but not more than 6 months before entry to Germany.
For unvaccinated people: negative test result with nucleic acid amplification technique (e.g. PCR, PoC-PCR) in English, French, German, Italian or Spanish. The test must be performed no more than 72 hours prior to entry (time of swab collection).
Alternatively, a negative result of a rapid antigen test in English, French, German, Italian or Spanish. The test in case of a previous stay in a high-risk area must be done no more than 48 hours before entry. In the case of a previous stay in a virus-variant area, the test may be performed no more than 24 hours before entry.
Details on the recognition of tests are provided by the Robert Koch Institute.

Please make sure to check if these regulations apply for entering Germany from the respective country you will travel from and for your particular circumstances.
Regulations from us and the Max Planck Society
the government has decided that only people with a proof of vaccination, recovery or a daily covid test (3G-rule) are allowed to enter the workplace. Therefore we can only grant access to the institute under these conditions. For further information you are welcome to contact the reception desk.
there is a

mask obligation in the institut

e

, except for in your office (if the distance to other people can be maintained) and during meals (only as long as it is necessary for consuming the meal) Please do not use the meal time as an excuse to sit in public areas leisurely without a mask.
every confirmed case of Covid-19 has to be reported to personnel@mpim-bonn.mpg.de or 0228-402-255. Please also inform us if you have suspicious symptoms, so that we can quickly trace your contacts.
work from home as much as possible, keep your visits to MPIM brief
if you enter the institute, please disinfect your hands immediately at the dispensers on the ground floor next to the elevator or at the reception desk
do not stay in a small office (or one without windows) with multiple people
participate in virtual meetings and talks
if necessary, talks may be held in the lecture hall with up to 20 people - vaccinated or recovered guests with an entrance card
wash and disinfect your hands regularly,
keep at least a 1.5m distance,
ventilate the rooms regularly.
If you meet in person, we strongly encourage you to meet outside. In case you meet for a brief discussion at the institute, wear masks and meet in a wide and well-ventilated area, such as the blackboards in the tea area, lecture hall, etc.
We all hope that normal life (at MPIM and elsewhere) can resume soon.
Gerd Faltings, Dennis Gaitsgory, Peter Scholze and Peter Teichner
Further information from our staff
The reception and IT at MPIM will be staffed as usual.
The library is open and staffed Wednesdays. Please disinfect your hands when entering and leaving the library.
Our staff will work mostly from home but will be still available by e-mail and for urgent questions in person at MPIM on Wednesdays.
The daily tea will not take place until further notice.
We ask you to make responsible decisions for you and other people to help slow down the infection rate. We wish you good health and a positive mindset. We thank you for your understanding and will keep you updated about the situation. For further questions, please do not hesitate to contact us by e-mail.

Information for invited guests
You are still welcome to start your research stay at the institute as planned, but please be aware of the current entry regulations (see above).
Unfortunately, we cannot postpone your visit, since our office space is already fully booked. However, you can shorten your visit if needed. You can also choose the option to reapply through our online application system (no new recommendation letters are needed in this case).
If you have already booked an accommodation and you plan to cancel your stay, please contact the landlord immediately to cancel the rental contract (to avoid costs) and try to find a solution for both sides.
If you have not yet booked a flight or accommodation, please wait before doing so and book only at short notice. We do not know how the situation will change and can only recommend not to book anything yet. If you have booked your flight already, check this link to rebook or cancel for free.
Please be so kind and inform us about your plans by e-mail.