Corona Virus – Relevant information (as of January 9, 2023) for all scientists at the Max Planck Institute for Mathematics
Posted in
During the pandemic, regulations are imposed by different sources. The German government imposes the overall rules, but the governments of the individual Länder (federal states in Germany) as well as some cities have the freedom to impose regulations with regard to the particular situation of the area. Here we try to summarize the information relevant for our guests as best as possible and to keep it up to date. We assume no liability for this information and refer to the government websites for the official regulations:

NRW website, RKI website, city of Bonn's website.
Travel
The current regulations for entering Germany can be found on the website of the Robert-Koch-Institut.
The abolition of the COVID proof requirement and the provisional lifting of the pandemic-related entry restrictions as of June 11, 2022 do not mean the lifting of the entry restrictions for persons resident in China. These continue to apply due to the reciprocity clause. Entry from China will continue to be permitted only for good cause (in accordance with the implementation of Annex II to Council Recommendation 2020/912). The entry restrictions also apply regardless of the vaccination status of the traveller. Further information can also be found on the homepage of the Federal Ministry of the Interior.
Update January 9, 2023: China is classified as threatening to become a virus variant area. There is a testing obligation for travelers from China entering Germany (PCR or Antigen test, not older than 48 hours at the time of entry or planned entry). This obligation to provide proof also applies to those who have been vaccinated and those who have recovered. Please note the required testing and verification for travellers from China when entering Germany.
Please make sure to check the detailed regulations that apply for entering Germany from the respective country you will travel from and for your particular circumstances.
Regulations in Bonn / NRW / Germany
FFP2 masks are mandatory for long-distance public transport for people of 14 y/o and up. Children and adolescents 6-13 y/o and personnel may also wear medical masks (surgical masks).
in direct public transport in Bonn and surroundings at least a medical mask must be worn.
For access to hospitals and care facilities, a medical or FFP2 mask must be worn and testing is compulsory.
Wearing a medical or FFP2 mask is mandatory for patients and visitors in doctors' offices, dialysis facilities and other healthcare facilities.
In many areas the mask obligation is dropped indoors and outdoors. However, an obligation to wear a mask can be imposed via the house rules of the respective facility.
You can see the current numbers regarding Covid-19 in Bonn here.
Regulations in the MPIM
wearing a mask is voluntary in the whole institute and there is no 3G rule for external visitors anymore.
the limit and mask obligation for the lecture hall is also lifted.
However, if a member of staff asks you to wear a mask when entering their office, we kindly ask you to respect this.
We urgently ask you to stay home if you have any symptoms suggestive of the Corona virus and report every positive tested case to personnel@mpim-bonn.mpg.de or 0228-402-255.
The recommendations remain:
Wash and disinfect your hands regularly.
Ventilate the rooms regularly.
In case of a positive test result
If you get a positive self-test result, you should get tested officially with a PCR test as soon as possible and only leave the house for the test in compliance with general infection control regulations. If the PCR test is positive as well you are obligated to isolate immediately. You will get an information sheet from the city about the duties and regulations for positive tested persons and their contacts.
If you had contact with a positive tested person, you should get tested as well.
Here you can find some more information about testing, quarantine and isolation and what to do when you have tested positive.
Difference between isolation and quarantine:
Isolation is a measure ordered by the authorities for persons in whom a SARS-CoV-2 infection has been confirmed by a PCR test. Isolation can take place at home or, in the case of severe disease progression, in hospital. Discharge from isolation is based on established criteria. At the time of discharge, it must be assumed that the person is no longer infectious.

Quarantine is a temporary seclusion of persons suspected of being infected with the SARS-CoV-2 coronavirus. These are usually contacts of ill persons and persons entering the country from high-risk areas or virus variant areas. Quarantine can be ordered by the authorities or be voluntary.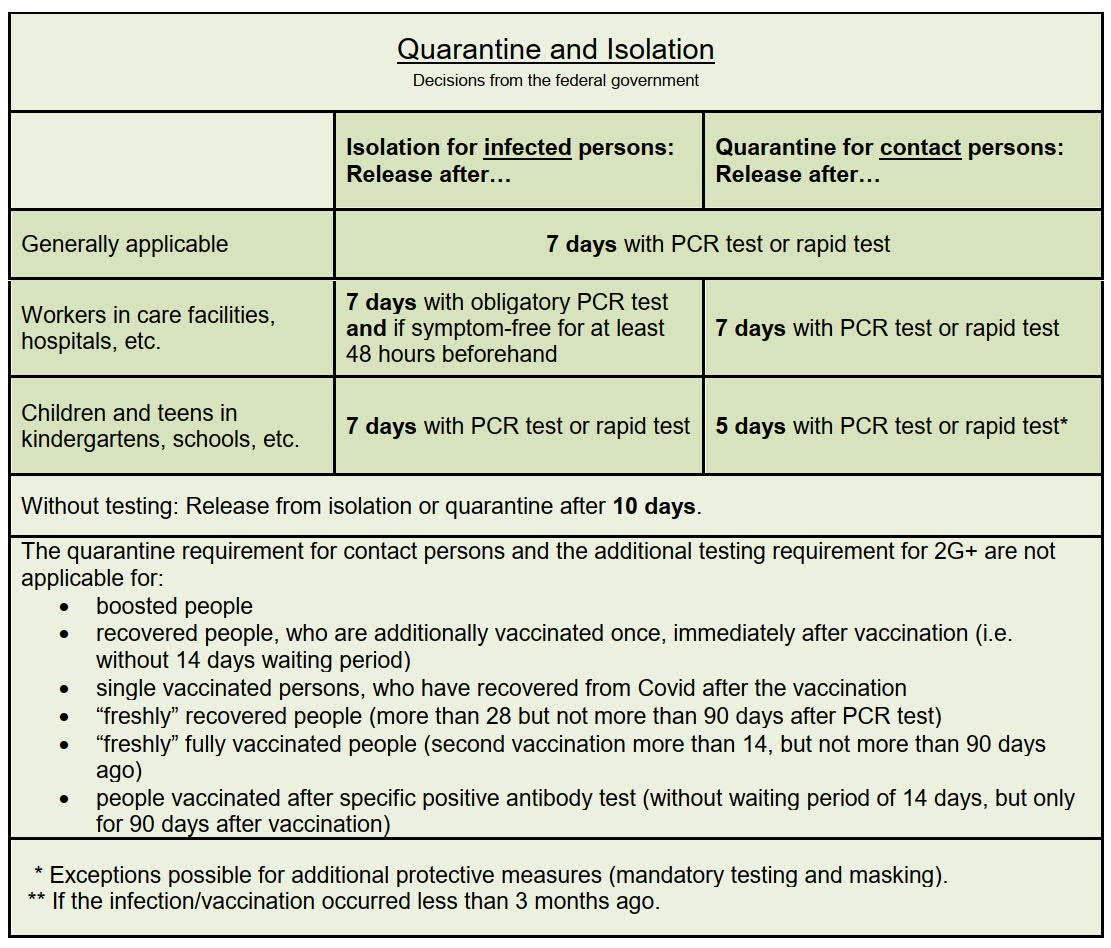 Here you can find some information about where to get vaccinated in Bonn as well as a list of doctor's offices that offer the vaccination.
Vaccination side effects can be reported here.
Information for invited guests
You are still welcome to start your research stay at the institute as planned, but please check the current entry regulations for travelling from your country to Germany.