Corona Virus – Relevant information (as of May 6, 2022) for all scientists at the Max Planck Institute for Mathematics
Posted in
During the pandemic, regulations are imposed by different sources. The German government imposes the overall rules, but the governments of the individual Länder (federal states in Germany) as well as some cities have the freedom to impose regulations with regard to the particular situation of the area. Here we try to summarize the information relevant for our guests as best as possible and to keep it up to date. We assume no liability for this information and refer to the government websites for the official regulations:
NRW website (only in German), Federal Foreign Office's website, city of Bonn's website.
Regulations from us and the Max Planck Society
Lecture hall:

starting April 25, 2022 there is

no more 2G-rule in the lecture hall

. If more than 20 people are in the lecture hall - mask obligation; if there are up to 20 people in the lecture hall - mask can be removed when sitting in one of the marked seats. There is no mask obligation for the speaker during the talk. You are welcome to participate remotely if offered for the respective talk. For conferences the mask and entry regulations are decided individually depending on the planned scale of the event.

Access to the institute:

starting March 22, 2022 no 3G-regulation for access to the institue for contract holders and scholarship holders anymore. External people need a proof of vaccination, recovery or a daily covid test result (3G) to enter the institute.
The

mask obligation in the institute remains

, except for in your office (if the distance to other people can be maintained), while sitting in a designated seat in the lecture hall and during meals (only as long as it is necessary for consuming the meal).

Medical mask , FFP2 mask or

equivalent to FFP2 are accepted.

Every confirmed case of Covid-19 has to be reported to personnel@mpim-bonn.mpg.de or 0228-402-255. Please also inform us if you have suspicious symptoms, so that we can quickly trace your contacts.
Work from home as much as possible, keep your visits to MPIM brief.
If you enter the institute, please disinfect your hands immediately at the dispensers on the ground floor next to the elevator or at the reception desk.
Do not stay in a small office (or one without windows) with multiple people.
Participate in virtual meetings and talks.
Talks may be held in the lecture hall with up to 20 people on a first-come, first-served basis - vaccinated or recovered people only (2G).
Wash and disinfect your hands regularly.
Keep at least a 1.5m distance.
Ventilate the rooms regularly.
If you meet in person, we strongly encourage you to meet outside. In case you meet for a brief discussion at the institute, wear masks and meet in a wide and well-ventilated area, such as the blackboards in the tea area, lecture hall, etc.
We all hope that normal life (at MPIM and elsewhere) can resume soon.
Gerd Faltings, Dennis Gaitsgory, Peter Scholze and Peter Teichner
Further information from our staff
Starting April 1, 2022: The regular staff at MPIM will be present as usual (not only Wednesdays anymore).
The daily tea will not take place until further notice.
We ask you to make responsible decisions for you and other people to help slow down the infection rate. We wish you good health and a positive mindset. We thank you for your understanding and will keep you updated about the situation. For further questions, please do not hesitate to contact us by e-mail.
Regulations in Bonn / NRW / Germany
Update April 3, 2022:

In many areas the mask obligation is dropped indoors and outdoors. However, an obligation to wear a mask can be imposed via the house rules of the respective facility. Indoors, the wearing of a protective mask is still recommended. No medical mask or FFP2 mask needs to be worn outside. An obligation to wear at least a medical mask continues to exist for the following areas: public transportation (buses and trains, school transportation); Health care and nursing facilities (hospitals, doctors' offices, and similar facilities); Homeless shelters; refugee shelters.
Update March 19, 2022: Contact restrictions are waived for everyone at private gatherings.
Update for March 4, 2022: non-immunized persons with negative test result have access to gastronomy, cultural facilities and sports facilities again.
Update for March 4, 2022: Clubs etc. are allowed to reopen with 2G+, weddings and other celebrations are also allowed to take place again with 2G+.
Mask requirement remains in effect in certain areas, e.g. public transport; retail; public indoor areas, and more.
You can see the current numbers regarding Covid-19 in Bonn here.
In case of a positive test result
If you get a positive self-test result, you should get tested officially with a PCR test as soon as possible and only leave the house for the test in compliance with general infection control regulations. If the PCR test is positive as well you are obligated to isolate immediately. You will get an information sheet from the city about the duties and regulations for positive tested persons and their contacts.
If you had contact with a positive tested person, you should get tested as well.
Here you can find some more information about testing, quarantine and isolation and what to do when you have tested positive.
Difference between isolation and quarantine:
Isolation is a measure ordered by the authorities for persons in whom a SARS-CoV-2 infection has been confirmed by a PCR test. Isolation can take place at home or, in the case of severe disease progression, in hospital. Discharge from isolation is based on established criteria. At the time of discharge, it must be assumed that the person is no longer infectious.

Quarantine is a temporary seclusion of persons suspected of being infected with the SARS-CoV-2 coronavirus. These are usually contacts of ill persons and persons entering the country from high-risk areas or virus variant areas. Quarantine can be ordered by the authorities or be voluntary.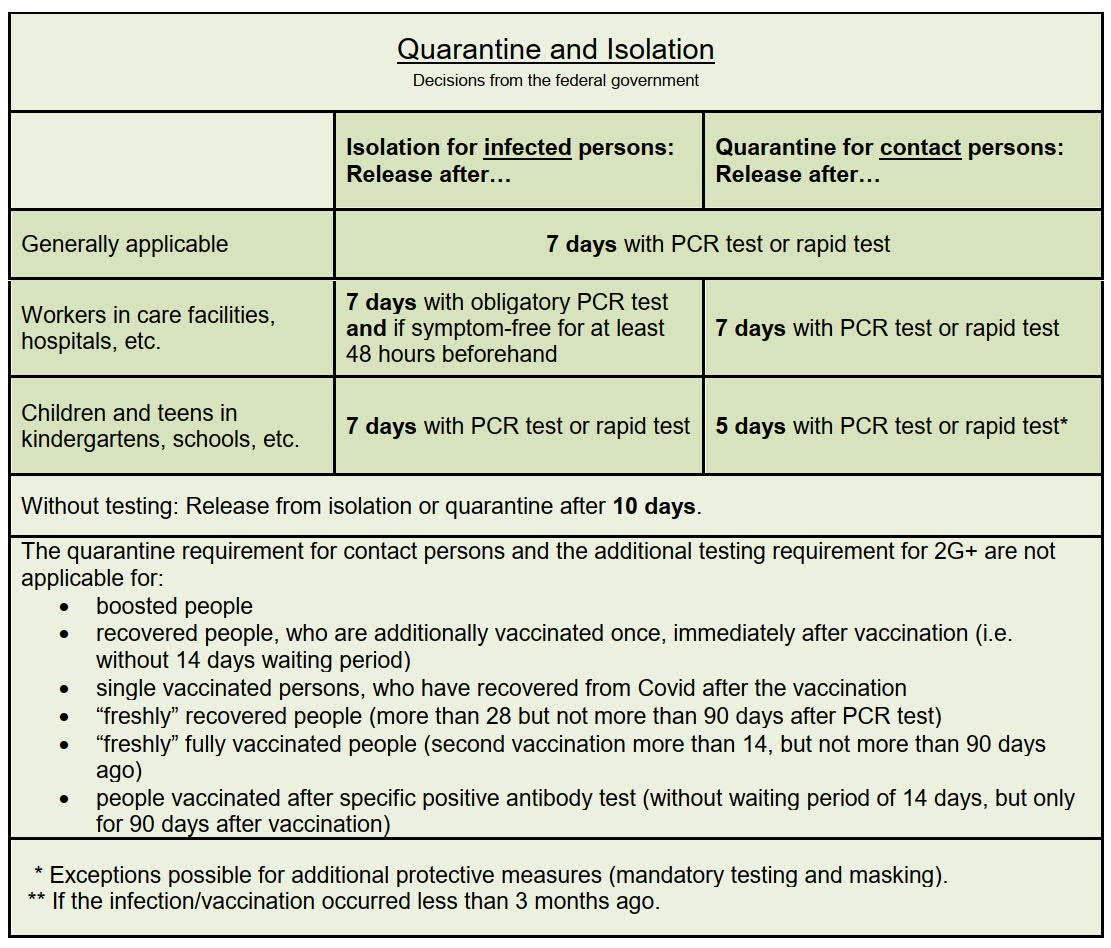 Covid Vaccination
Update Jan. 19, 2022: With one dose of the Johnson&Johnson vaccination a person does no longer count as "fully vaccinated". Please make sure to inform yourself about the possibilities of further vaccination.
Here you can find some information about where to get vaccinated in Bonn as well as a list of doctor's offices that offer the vaccination.
Vaccination side effects can be reported here.
Travel
For countries where virus mutations are widespread (so-called virus variant areas), there is a transport ban. Transport companies, e.g. airlines or railroad companies, are not allowed to transport persons from these countries to Germany. Transportation is only possible in narrowly defined exceptional cases, in particular for German citizens and persons with residence and existing right of residence in Germany, as well as their spouses, their cohabitants from the same household and their minor children; for persons who are only transferring in Germany, and in a few other special cases.
The current regulations for entering Germany can be found on the website of the Federal Foreign Office.
For the digital entry registration when entering from a high risk - or virus variant area, please register at www.einreiseanmeldung.de before arriving in Germany and carry proof of registration with you upon entry. To see in which category (no risk, high risk or virus variant area) which countries are, please see the Robert Koch Institute website.
Please make sure to check if the regulations apply for entering Germany from the respective country you will travel from and for your particular circumstances.
Information for invited guests
You are still welcome to start your research stay at the institute as planned, but please be aware of the current entry regulations (see above).
Unfortunately, we cannot postpone your visit, since our office space is already fully booked. However, you can shorten your visit if needed. You can also choose the option to reapply through our online application system (no new recommendation letters are needed in this case).
If you have already booked an accommodation and you plan to cancel your stay, please contact the landlord immediately to cancel the rental contract (to avoid costs) and try to find a solution for both sides.
If you have not yet booked a flight or accommodation, please wait before doing so and book only at short notice. We do not know how the situation will change and can only recommend not to book anything yet. If you have booked your flight already, check this link to rebook or cancel for free.
Please be so kind and inform us about your plans by e-mail.