Conference on: Algebraic Groups, Lie Algebras and their Representations on the occasion of Jens Carsten Jantzen's 70th birthday, November 22 - 24, 2018
Posted in
Organiser(s):
Christian Blohmann, Wolfgang Soergel, Catharina Stroppel, Geordie Williamson
Date:
Thu, 22/11/2018 - 08:30
-
Sat, 24/11/2018 - 18:00
WARNING - HOTEL SCAM ALERT: Business Travel Management (BTM)
Note to conference delegates: Please read the WARNING regarding a fraudulent travel and hotel booking scheme. All hotel bookings should only be made directly through our housing department (housing@mpim-bonn.mpg.de).

Conference on:
Algebraic Groups, Lie Algebras and their Representations
on the occasion of Jens Carsten Jantzen's 70th birthday
November 22 - 24, 2018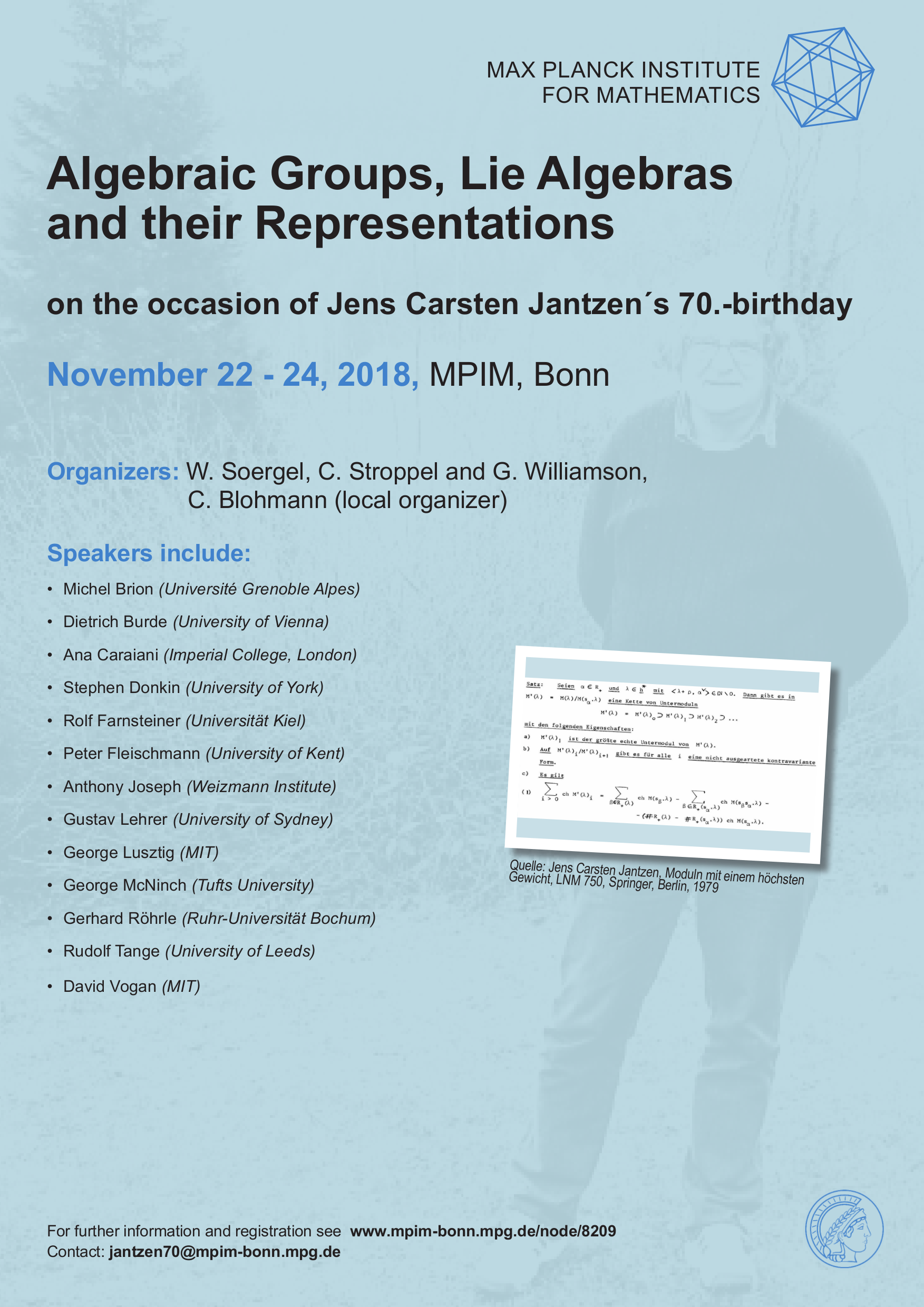 Organizers
Wolfgang Soergel (Albert-Ludwigs-Universität Freiburg)
Catharina Stroppel (Universität Bonn)
Geordie Williamson (University of Sydney)
Christian Blohmann (MPIM Bonn, local organizer)

Speakers include
Michel Brion (Université Grenoble Alpes)
Dietrich Burde (University of Vienna)
Ana Caraiani (Imperial College, London)
Stephen Donkin (University of York)
Rolf Farnsteiner (Universität Kiel)
Peter Fleischmann (University of Kent)
Anthony Joseph (Weizmann Insitute)
Gustav Lehrer (University of Sydney)
George Lusztig (MIT)
George McNinch (Tufts University)
Gerhard Röhrle (Ruhr-Universität Bochum)
Rudolf Tange (University of Leeds)


Registration
Please use the following link.
Hotel reservations
If you would like us to make a hotel reservation for you, please state this on the registration webform. We can only honor requests for hotel reservations made by October 1st, 2018. If you would like to make a hotel reservation by yourself you will find a list of hotels here.
Contact
If you have any questions, please feel free to contact jantzen70@mpim-bonn.mpg.de