Posted in
Organiser(s):
Don Zagier, Martin Möller, Christian Blohmann
Date:
Fri, 26/06/2015 - 14:00
-
Fri, 03/07/2015 - 17:00
The Arbeitstagung of 2015 will have the general theme
Counting problems on moduli spaces
including such topics as Hurwitz counting problems for coverings, computations of volumes and other combinatorial invariants of moduli spaces of curves and of flat surfaces, Siegel-Veech constants, Gromov-Witten numbers, topological recursion, or dessins d'enfants. There will be mini-courses and research lectures by invited speakers including Alex Eskin, Motohico Mulase, Rahul Pandharipande, Richard Thomas, and Anton Zorich. The other lectures will be determined in the traditional way by open discussion during the meeting.
Program
Opening lecture
Richard Thomas: The MNOP conjecture
Minicourses
Alex Eskin: Covers of Elliptic curves and quasimodular forms
Motohico Mulase: The topological recursion -- an inductive mechanism of counting on the moduli of curves
Raul Pandharipande: Cycles on the moduli space of curves
Anton Zorich: Volumes of moduli spaces in counting simple closed geodesics on flat surfaces, and in measuring diffusion in periodic billiards
Social events
Sunday, June 28, 19:00-22:00h: Rector's recpeption, University Club Bonn, Konviktstrasse 9
Tuesday, June 30, 13:00-19:00h: Boat trip on the Rhine
You have to register in order to participate in the social events.
TIMETABLE
MATHEMATISCHE ARBEITSTAGUNG – June 26-July 3, 2015 – Max Planck Institute for Mathematics, Vivatsgasse 7, 53111 Bonn
-- preliminary program --

Friday
June 26

Saturday
June 27

Sunday
June 28

Monday
June 29

Tuesday
June 30

Wednesday
July 1

Thursday
July 2

Friday
July 3

A. Zorich

R. Pandharipande

R. Pandharipande

A. Eskin

G. Borot

D. Petersen

G. Mikhalkin

10:30-11:00
Tea

10:30-11:00
Tea

10:30-11:00
Tea

10:30-11:00
Tea

10:30-11:00
Tea

10:30-11:30
Tea

M. Mulase

H. Markwig

S. Filip

C. Dupont

Y. Manin

A. Zorich

A. Eskin

G. Farkas

14:30-15:30
Minicourse

A. Zorich

M. Westerholt-
Raum

M. Verbitsky

S. Rose

Opening

and first




program discussion

B. Matschke

V. Golyshev

M. Mulase

G. Masbaum

S. Grushevsky

R. Thomas

Rector's reception




Universitätsclub

Konviktstrasse 9

All lectures will take place at the Max Planck Institute for Mathematics.
Map of the conference venues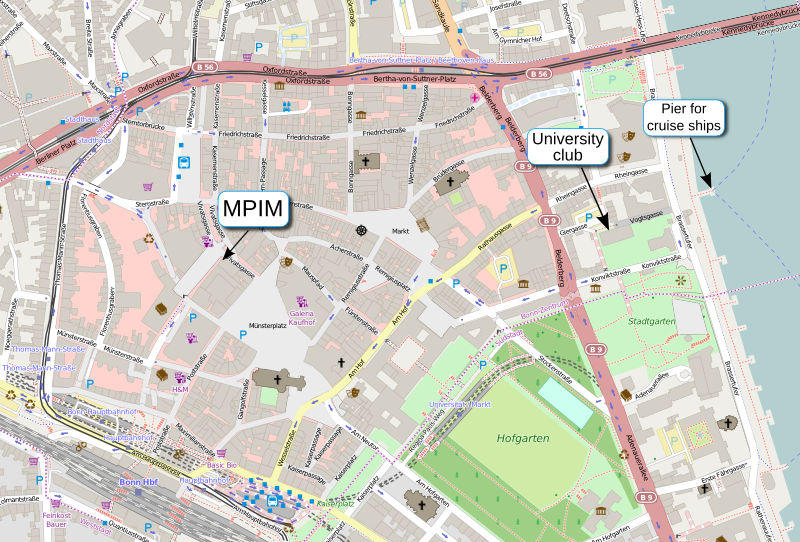 Registration
To register please use this registration webform. There is no registration fee. For any further inquiries please send an email to AT2015@mpim-bonn.mpg.de.
Financial support
Limited financial support is available. If you need support, you can add your request on the registration webform with a brief justification. Requests for financial support will have to be made by April 19.
Social events
There will be a reception in the evening of Sunday, June 28 at the University Club. There will also be the traditional boat trip on the Rhine in the afternoon of Tuesday, June 30. Participants who would like to attend these events are asked to state this on the registration webform.
Hotel reservations
If you would like us to make a hotel reservation for you, please state this on the registration webform. We can only honor requests for hotel reservations made by May 26. If you would like to make a hotel reservation by yourself you will find a list of hotels here.
The tradition of the Arbeitstagung
The Mathematische Arbeitstagung, which was started by Friedrich Hirzebruch in 1957, took place nearly every year until his retirement in 1995, and has continued bi-annually since then. Its special feature has been the unusual form of organization, with most of the speakers and topics being chosen by popular acclaim during the meeting according to the most recent and exciting developments in mathematics. Because of the changing nature of the mathematical world, we are now going to try a somewhat modified format, with some invited speakers and focusing each time on a specific theme of current interest. But we plan to keep the other traditions like the University party and the boat trip on the Rhine.
By combining introductory courses in the style of a summer school with lectures on current research we would like to bring together researchers on all levels. We encourage in particular doctoral students and postdocs to participate, and will also be able to offer limited financial support.
Here you can find a list of participants.